Podcast: Play in new window | Download
Subscribe: Apple Podcasts | Google Podcasts | Spotify | Android | Stitcher | Blubrry | Email | TuneIn | RSS | More
episode 100 part 3 season 3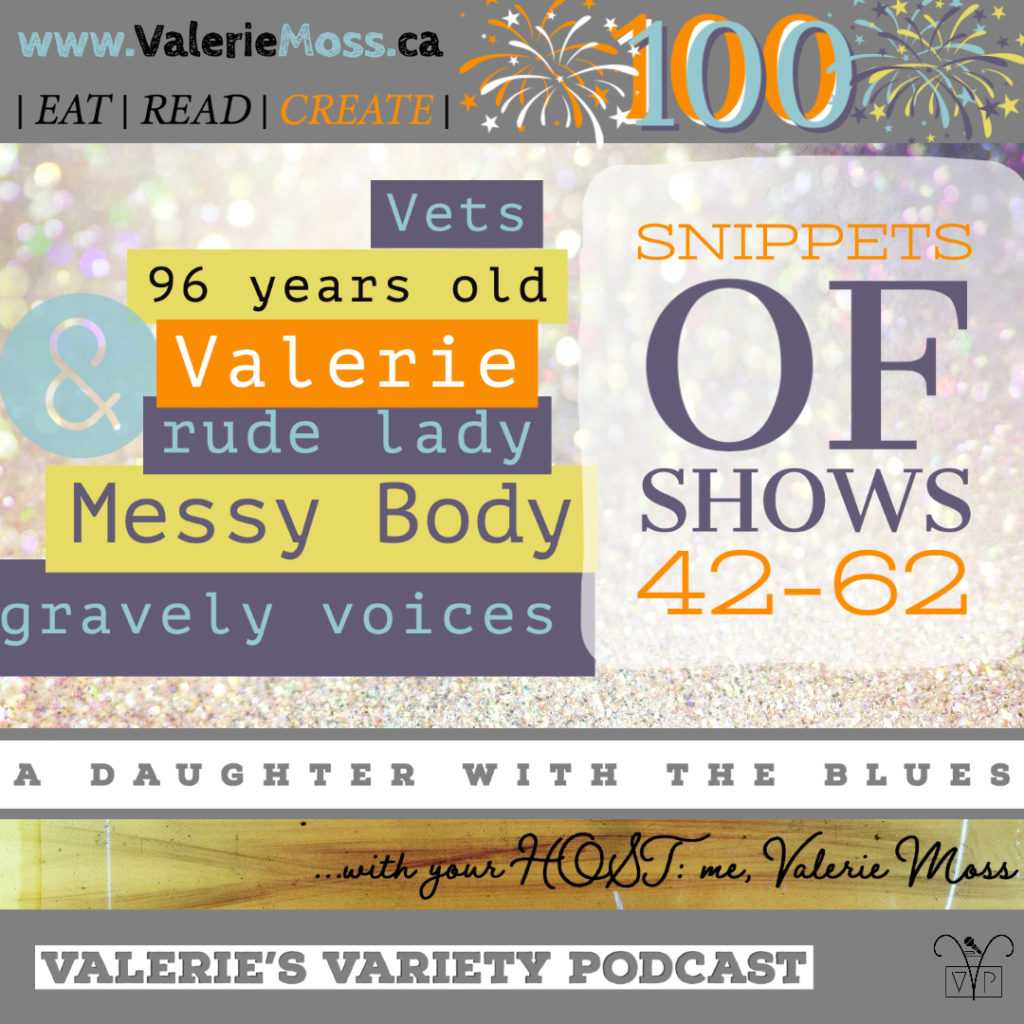 Hey Everyone, it's Valerie here, today's show is part 3 in our count up to 100 episodes, in this show today our snippets will include, a vet, a rude lady, my bday episode, a crazy story about quilters that don't include quilting and by far my most commented show…I'm a daughter without a mother a heartfelt episode…enjoy the show!
Episode 42 – Housekeeping Promo Think a 96 year old cat, a rude lady, messy body, gravely voices, court hearing, round food, rectangular food and an absent Mother. Playing with little compilations for a recap episode.
Episode 43 – Vets To Go Review My old cat takes centre stage in this episode getting a check up right here on my kitchen table with a lovely caring Vet. This is my daughters favourite episode.
Episode 44 – Colour Me Mine This is one of our 'go-to' favourite things to, spend the day away painting…there was however a visitor that came into the store – disrupting everyone by her comments, she was so rude!
Episode 45 – Thank you Episode Such a beautiful comment that I had to share from the Owners of the Colour Me Mine location we attended (artwork updated – website updated)
Episode 46 – Mental Health Challenge Winner Seems like an oxymoron but I did win this challenge and with that I received an awesome gift from stress case.ca – all sorts of body products to make you feel good. A heartfelt true story.
Episode 47 – Happy Birthday Valerie's Variety Pod WOW it was my first birthday episode and the storytelling continues – did you know 6 million people share your birthday?
Episode 48 – Tenshi Sushi Say this 3 times fast, this stop is incredible, some really great and unique sushi options – if you need to pee, the hallway is pretty creepy…just staying
Episode 49 – OeB Review OeB stands for Over Easy Breakfast and has made it's mark on the city as an awesome breakfast location with 'boxed' items, great crepes but the price is up there. The restaurants are beautifully decorated – worth a stop!
Episode 50 – Una Pizzeria + Wine Review The best pizza in Calgary with a great past – wicked wedge and good staff and wine – all round great stop!
Episode 51 – I'm a Daughter without a Mother This episode has the most comments, it's a thought provoking show about my life with my mom…get the tissues
Episode 52 – The Courtroom My experience with an affidavit, two cases I watched over and ours – did we win or lose…
Episode 53 – The Best Bread About 5 years ago I stopped buying bread and started making it and this has continued each week a make 1-2 loaves of bread, in my cuisinart bread machine…here's my go to recipe.
Episode 54 – Brekkie Cafe Our experience in this great breakfast place, avocado toast, great London Fogs and more a must stop!
Episode 55 – The Messiest Body Scrub – BUT it's worth it! I probably use this body scrub once a week, coffee and…
Episode 56 – A Quilters Story I was just with a group of women heading off to quilt but the stories of jail, son, daughter, shot, and scalded made me pause and take note.
Episode 57 – The Blues Can Join me for a night of gravelly voices, bass and dancing feel the vibe through his behind the scenes tour!
Episode 58 – Calgary Stampede The greatest outdoor show on earth and we of course celebrated with our little person, crowds, rodeos and so much more!
Episode 59 – Cre&tive Hair A hairdresser we've been going to for years, Donna is the main gal and a great lady, here's a behind the scenes tag along in my experience.
Episode 60 – Crazy April Snow Day A story describing an awesome photo my husband Jeff Moss took and I just love…what do you see?
Episode 61 – Point Sushi Think sushi wizzing by on bullet trains beside your arms, ordering on iPads – so fun!
Episode 62 – The Valerie Series I love my name and I don't know any Valerie's so I went on the hunt…me, I'm up first get to know me, the person behind this PodCast!
Wow what an episode, what was your favourite snippet from this batch of 20 shows? The gravelly voices, the fair, or all of our sushi places..next week we dive into part 4 as we pay tribute to the last 100 shows..think interviews.
Follow Me:
Website @ ValerieMoss.ca
Instagram @ValerieJMoss
Facebook @VSMoss
YouTube @ValerieJMoss
Pinterest @VJMoss
The show music is call 'Girl' by Text me Records and Leviathe
The cover art, storytelling and production is by me, Valerie Moss.
Stay Tuned for the next season, season 3 on Valerie's Variety Podcast with your host me, Valerie Moss from Studio 17