Today's post is an excerpt from the Private Journey of a Quilter blog post showing how to do the mitered borders and I thought this would be excellent to share with all of you…
Now onto borders using my Journey of a Quilter project as the example (45″ square)…prep your border sections by cutting them into the correct width, in this case, 3″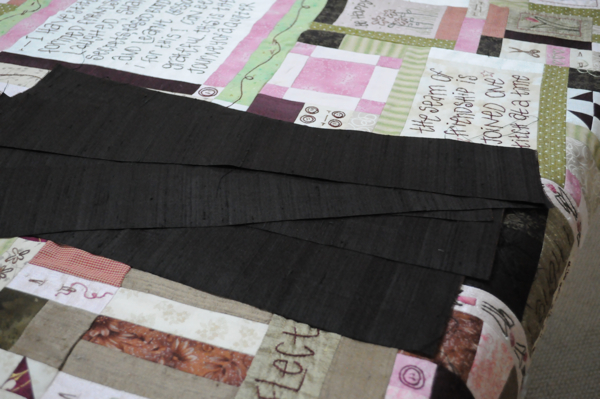 You will need 4 strips for one side. 19″ x 4 strips = 76″ – 18″ (is what's taken up when you connect the 4 strips together on the diagonal) = 58″
you will need 52″ (45.5″ + 6 (extra for mitering at the corners) but leave it at the 58 so you have some extra when doing the mitering).
When connecting strips, you should always connect on the 45 degree diagonal because with a straight up and down line your eye will see this, if you connect on the diagonal your eye won't tend to look directly at it as it's more subtle. I use a Clover Chalk pencil with the roller on the end for marking, just preference, you can use a pencil or whatever will show up the best for you. Mark your diagonal and then pin 🙂
I always connect strips in the same direction. Right side facing up, on my left hand side, add the extra strip on the right with the right side of the fabric facing down.
I do this the same when when I connect any strips together regardless of the width of the strip, borders, bindings always the same way. If you don't do it always in the same direction, you will notice it so much because one diagonal will go one way and another will go the opposite way. One thing with quilting is you need to find your rhythm. The way that makes sense to you so that way you will become an expert at the technique.
Sew across, make sure your needle position is in the center and not set to 1/4″ seam allowance or just be conscious if it is when connecting these on the diagonal.
with scissors or a rotary cutter, remove the excess leaving 1/4″ seam allowance, press really well to set the seam, them press open.
Cut away the seam allowance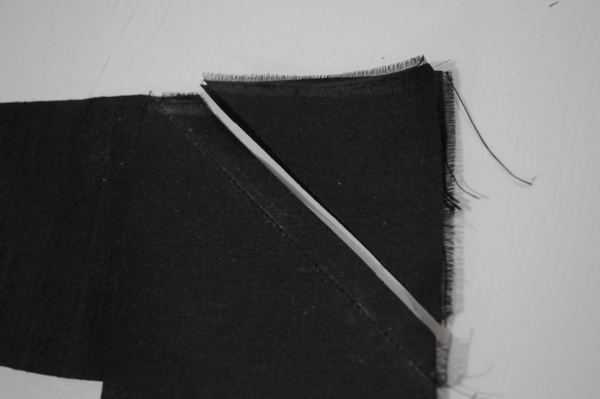 Here's what your border strips will look like. Remember when I mentioned the direction of the seam is very important how you connect your strips because if they aren't connected in the same way, the seams from the front will go in opposite directions…here's the correct way when all the strips are connected in the same direction.
I'm going to show you how to do mitered borders, so the corners of your borders meet at a 45 degree angle instead of square. This quilt needs an amazing frame whether you hang it on the wall of lay it on a chair, trust me the results are fabulous!
Finger press your quilt top in half, mark with a pin, this is your center.
Finger press your border fabric in half, mark with a pin, this is your center.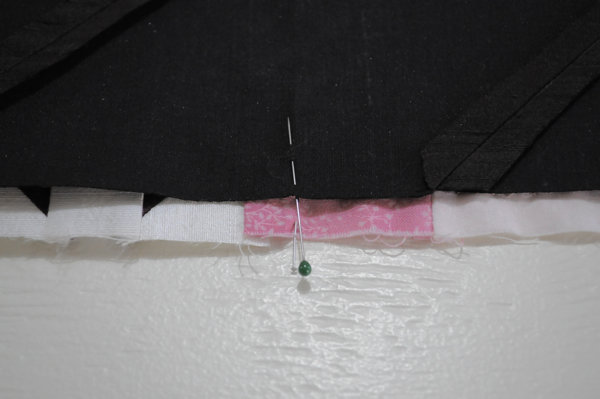 Start pinning from the center then towards both the outside edges.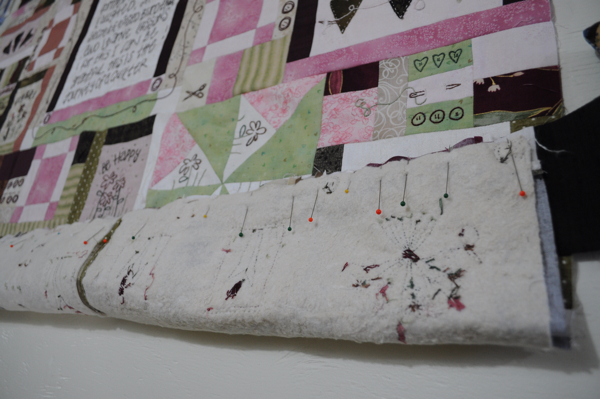 When you do mitered borders, you start sewing 1/4″ in from the end, be very exact here, then backstitch at that point, sew along full length, watching your seam allowances that they are nice and flat while sewing, stop 1/4″ in from the other end, back stitch. You can mark this 1/4″ with a pencil, pin or whatever works for you to remember to stop and backstitch 1/4″ in.
Here's what it will look like from the front.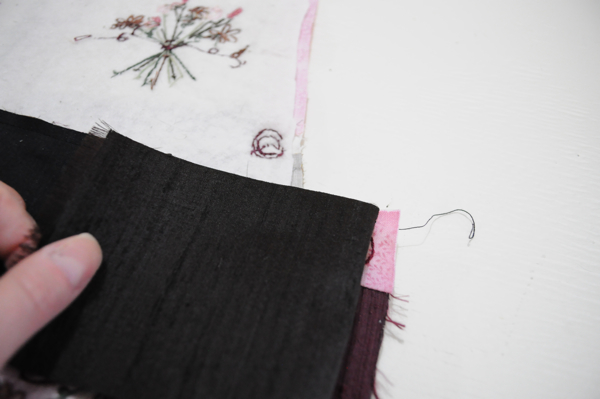 repeat the same thing on all 4 sides.
With right sides together at 90 degrees (top and side) you will match the borders, perfectly, pin in place to hold while you mark your diagonal, line your ruler up, see how my 45 degree marking on my ruler is flush with the bottom of the quilt when it's folded?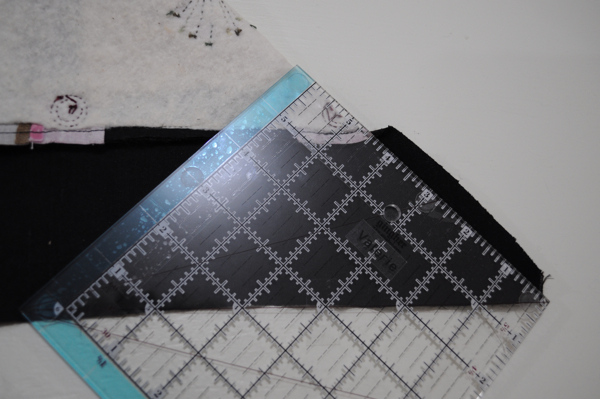 mark this way from both sides, this will ensure you have the correct angle, you can pin from both sides also, if you put a pin through your line on one side it should be in the line from the other side.
pin from both sides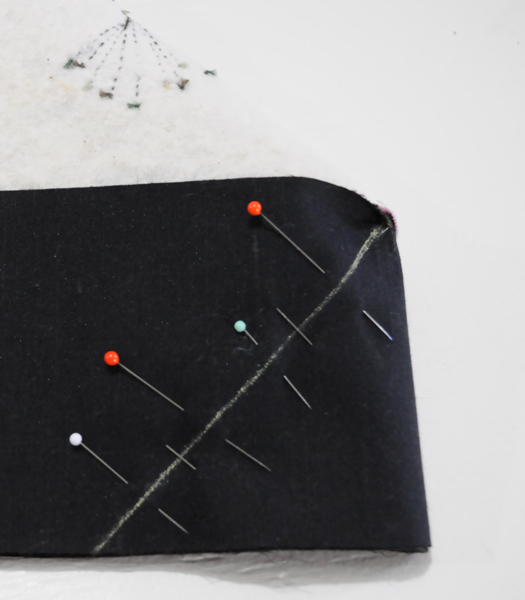 sew, starting at the edge of your stitching line from the border, backstitch, sew to edge, backstitch, break thread. Trim so your seam allowance is 1/4″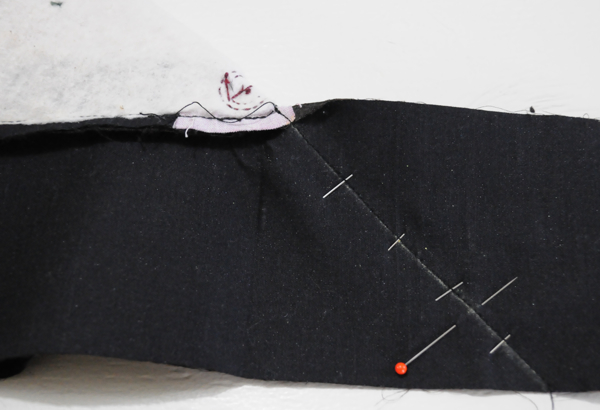 Here's the front…Did you try this, are you happy with how it turned out?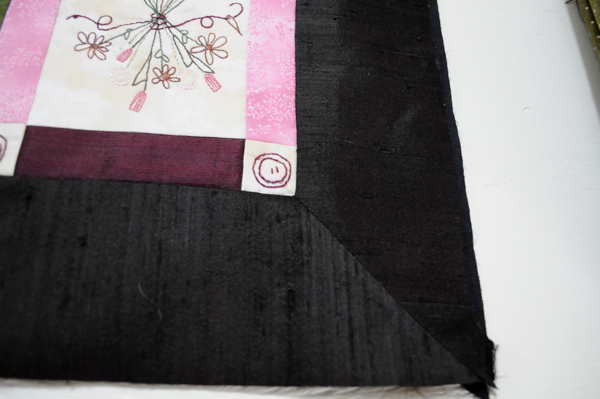 and from the back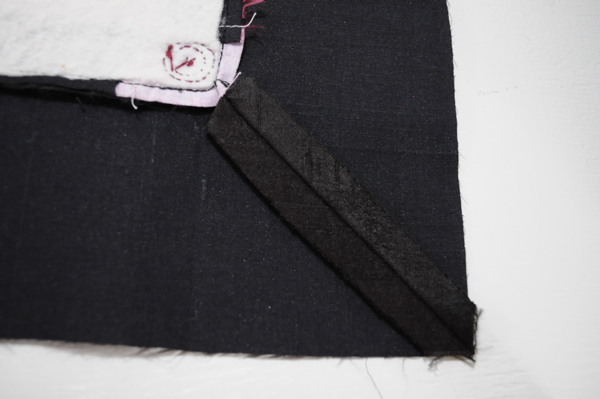 Any Questions?
Until next time, if you create a mitered border based on my tutorial, please let me know, I love to see your work, email me a pic if you feel so inclined 🙂
Until next time, stay happy, mitered and creative!