Podcast: Play in new window | Download
Subscribe: Apple Podcasts | Google Podcasts | Spotify | Android | Stitcher | Blubrry | Email | TuneIn | RSS | More
episode 85 season 2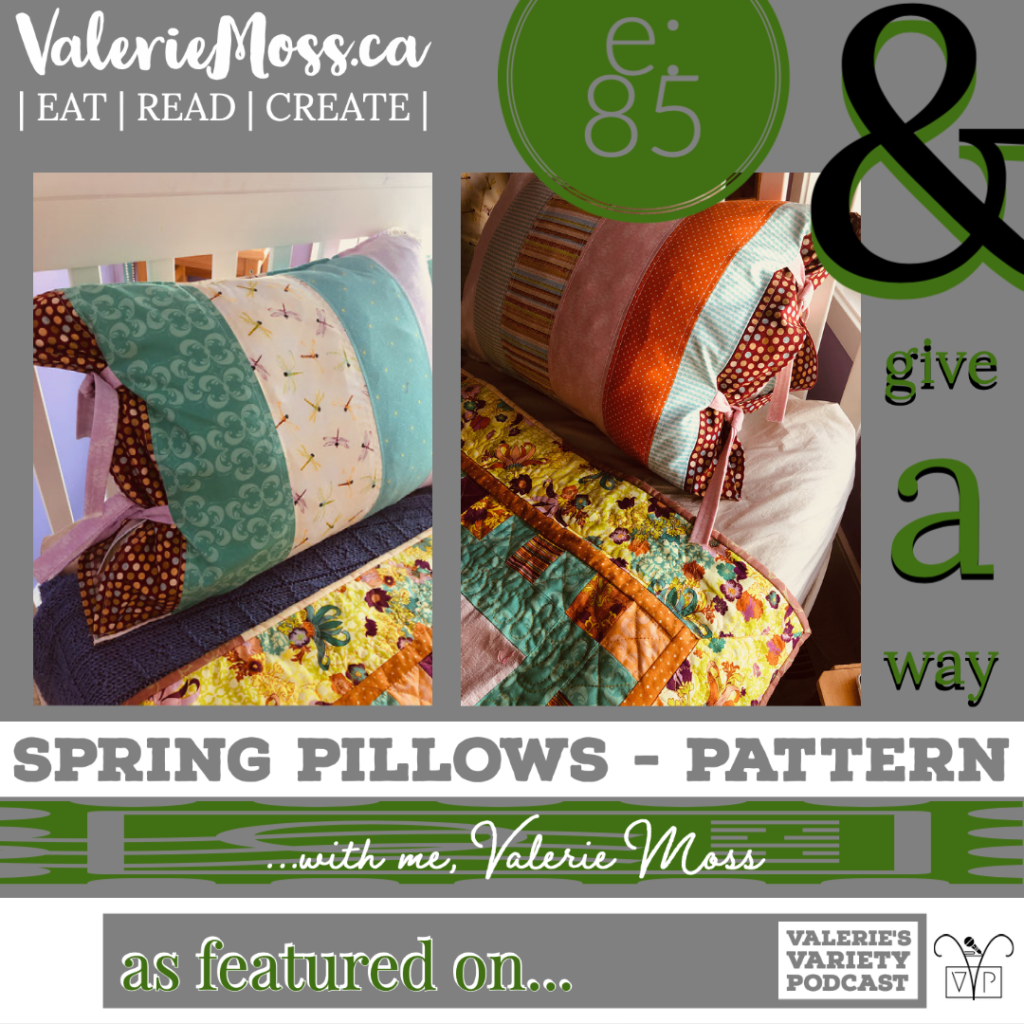 Todays show is all about CREATING – freshening up for Spring with a finished quilt top and matching pillow cases – this pattern I'm going to share with you today will be available on my blog and details here…if you're not a sewer or a quilter, don't fret just pass this episode onto those people and they will be forever indebted with this valuable information JK, just showing a little Spring in my step today for you to share with your friend or family member that is a crafty sewer. – and yours truly will give away a set or two to whoever tells me their favourite Spring Story – it could be about easter, gardening, spring cleaning, you tell me and I'll make you a set of these pillow cases (in your favour colours and in the size of your favourite pillows – sound good?)
So..years ago I made this quilt, Truly Scrumptious by Cinderberry Stitches as part of my block of the month program when I ran Pastimes Online. This quilt was The date of this post was Oct 2010, yes so many years ago now. BUT when I made this quilt I was hoping to be pregnant this year and was secretly or openly hoping for a girl…
Well made the quilt, did get pregnant and then promptly tucked the top away for another day when I could finish it….well people this quilt is now finished with…matching pillow cases.
FIRST
Dig out that old quilt top that you haven't finished 🙂 then prepare to sit down & listen to a good book, I listened to a new book by Joy Fielding, The Bad Daughter and go through your thread stash, find your favourite colours to match and bobbins wound and enjoy your time finishing this new quilt…well new because it's been stashed for so long.
SECOND
Quilt until your hearts desire, and then bind, bind, bind…one of my favourite parts, I love this finishing touch, it's so rewarding, tucking in that final raw edge and completion the border, smooth and crisp.. But when it comes to a label I always groan, now I have to write something up and add a separate piece of fabric to the back – where to put it and make sure you don't stitch through to the front…
Here's another one I did years ago 2013 for my niece and I just love the way it turned out…if you can do free motion, you can do this label on the front of your quilt, just find a good spot and measure out your words (first) then just have fun. I pull the bobbin three to the front, leave it long then tied it scrappy, make sure you date it and put your name…especially if you want to show off all of your hard work 😉
THIRD
The Spring Pillow Cases…
These just turned out so cute, and were actually very easy, I haven't made pillow cases below, except some small ones with 1 fabric, but nothing scrappy and fun like these, London mentioned, since these were for her, that she would like ties 🙂 I have a set of sheets that I decorated with ties and London just loves how these look – so… no problem we added ties.
Here's the Pattern
Measure your current pillow case – mine is 29″ x 19″ (one side)
Pick out your fabrics, they can be matching or not (one for you and one for him, maybe?)
If you are a quilter, you'll have fat quarters kicking around which measure 18″ x 22″ – notice anything? The 22″ is basically the width you'll need including seam allowance, yes they might be an inch or so larger per side but this works, trust me it's perfect
As you can see in my example, I striped pieced these, you will need two of each strip to make this mirror on the front and back
Cut strips into 6″ sections or the same width of your ruler to make it easy (see a pattern here, easy)
Some of these sections are small just pick your fabrics and make sure they add up to approx 29″ (then make two, front and back)
The bottom strip is a single unit so the end of the pillow case, the part that is at the bottom, so only one piece is needed here.
So, in the below example I have 2 (red dots (cuff 2″), teal strip (3″x2), orange dot (4″ x2) pink model (6″x20, Strip (6″x2), teal stripe (3″x2), white (6″x2), dark teal (6″x1) = 32″
Red Dot Cuff – the first pillow case I just turned the edge and finished it, the second pillow case I cut the cuff 6″ and folded it to 3″ then stitched this on the pillow case so the cuff was thicker and nicer
if you want to have ties – which are super cute. Cut 3″ strip – will give you 4 ties (with the 2 pillow cases I used the red dot as the connecting fabric, so they sort-of looked like a set- when you are adding this cuff tuck the ties into place, make them secure by backstitching over top of the spot, lay their end buried inside the seam in the same direction – it's a bit tricky to top stitch the seam allowance as in step 12 but just take your time and go over it – it looks so nice!
sew all of the strips together, same order on both sides (so they are a continuous stripe through the pillow case), press seams open (you want them as flat as possible), so now you have a 22″w x approx 64″ long rectangle.
to make this pillow case look 'finished' and 'professionally completed, proceed to change your stitch length to a longer top stitch length, you can use a walking foot if you like ( I didn't) just an open toe foot and I proceeded to first do a loose top stitch on both edges this will hold the pressed open seams in place, then top stitch each seam on either side, I did it about an 1/8″ away – to catch the seam at the back – this will reinforce all of these for longevity with the pillow case, years of love and washing.
Then press, press, press
Connect the two sides, I started with the bottom (un-open side) and then stitched to the cuff end, make sure to pin all of your seams so they match up exactly, the stripe will be continuous front to back…
Fold corners so they lay flat, then turn pillow case right side out – press, top stitch the two long sides (just do this as close to the edge as possible, I just used my open toe foot as the measurement) start at the bottom and work you way to the opening, back stitch both ends.
top stitch the cuff in two lines
U R Finished!