Podcast: Play in new window | Download
Subscribe: Apple Podcasts | Google Podcasts | Spotify | Android | Stitcher | Blubrry | Email | TuneIn | RSS | More
episode 1 season 1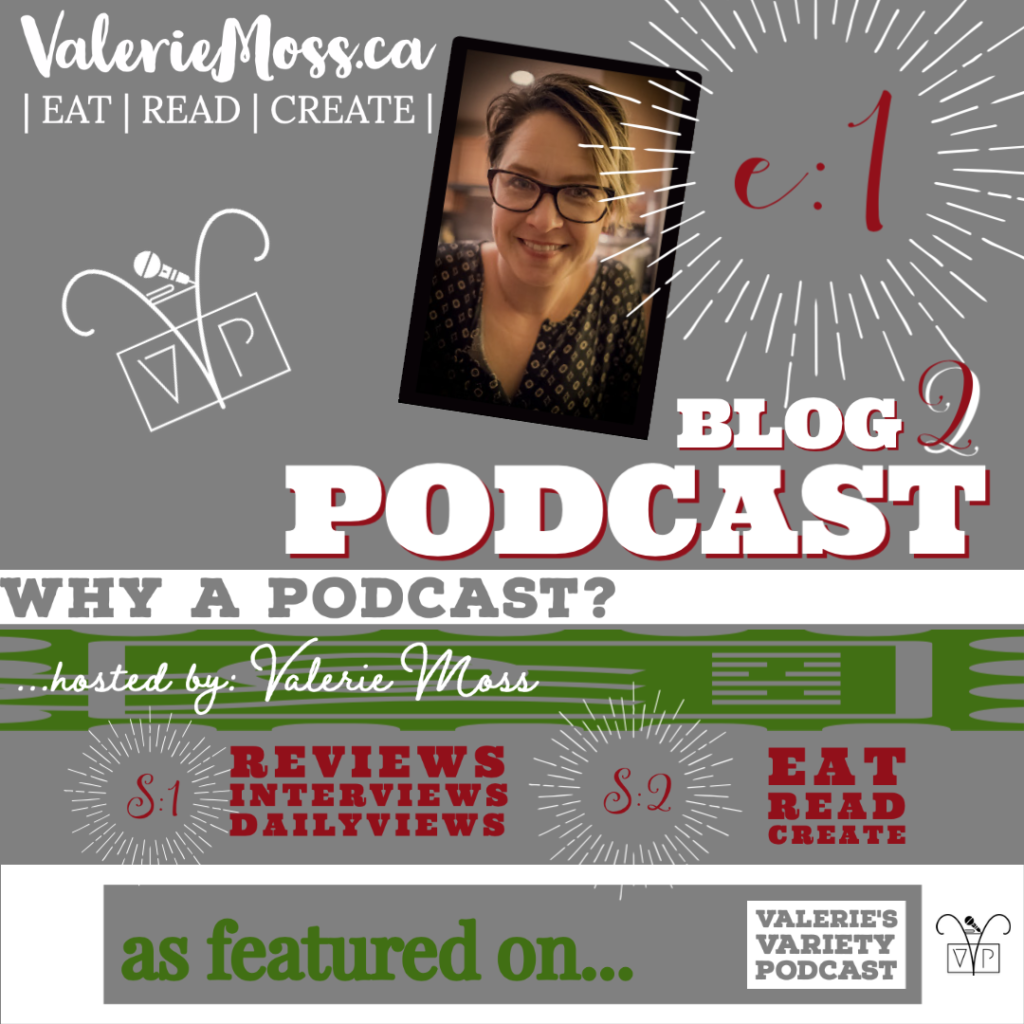 Valerie's Variety Podcast
Welcome to Episode 1 -PILOT
Why a Podcast
Living in the Calgary area
Working as a project manager.
Why a podcast? I've blogged for years even surpassing 200 posts on quilting, sewing and my own opinions -now that's a feat!. VSquareD is a new outlet for me because I have something to tell and have an opinion that I want to share and I listen to so many excellent podcasts on my daily communute that have inspired me to do this. Variety is what I'm looking to put out there for your opinions, your feedback, teach me something, influence me, challenge me and I hope to do the same. LIVE WORK PLAY, what makes you TIC
Podcast also known as autoblogging started in the 1980's – there's more than 250,000 podcasts on iTunes in more than 100 languages,
some of my favourite podcasts are (not necessarily in this order)
Someone Knows Something a podcast about unsolved crimes in Canada. David Riggen is now on season 4 of this intense excellently produced podcast, he has a great way of telling a story
The Minds of Madness – True Crime Stories an investigative discovery, uncovering event, circumstances and state of mind which cause ordinary people to do unthinkable things. Tyler's voice is edgy but soft spoken and slightly slow however the stories never let me down
S-Town– S.Town or shit town is a podcast from Serial and This American Life, Host Brian Reed about a man named John who despise his Alabama town and decides to do something about it. He asks Brian to investigate the some of a wealth family who allegedly been bragging that he go away with murder, but when someone else ends up dead, the search for the truth leads to a nasty feud a hunt for hidden treasure and an unearthing of the mistrials of ones man's life.
Calgary, also known as cow town located in the southern part of Alberta in Western Canada. Where prairies and mountains meet, oil fields are in abundance and destination skiing and winter sports is what everyone talks about. Calgary is home to the most famous Major in the world, Mayor Nenshi – who's been on the ballot box line up for 3 consecutive votes and won each time. why because he's grounded, fair and fearless. Isn't this what we all want in ourselves. Known for the Calgary Stampede and the Calgary Flames Hockey Team – Living in Calgary for almost 20 years, my entire career is here, my history is here – we have roots here. I love it here, the weather is hot and dry in the summer getting up to mid to high 30's (low 90's in fahrenheit in the summer and mid to low -30 degrees celcius in the winter is -22 F, for you southerners it's super cold, for us yep is super cold too. Have you been to this awesome city? If so share your story and I'll share it out (or now depends how you feel)
Work? Something most of us are committed to and can't avoid I'm a Senior Project Manager for a Signage Company, my first task was to install 7000 signs into the new International Airport Expansion project in Calgary, the 4th largest Airport in Canada. Our scope of the project was supposed to be completed in 6 months was eventually completed in 3 years – we had 160 change orders and 170 sign types. the majority of our change orders happened in the last 3 months of the whole project, just before opening. Talk about pressure. The best part was completion, the worst part was being bullied, harassed and put to the test every single day on this job. Looking back I basically received a whole lifetime of experience as I was the superintendent on site, a female, in her 30's among 1500 other trades and all men – life lessons were learned. Have you worked on a constuction site? which site?
Thank you for listening to Valerie's Variety Podcast I hope you enjoyed this pilot episode, please leave me a comment, a rating on itunes . Please visit valeriemoss.ca for show notes, links to today's topics.
this episode is written through WordPress, researched and produced through Garageband by me, Valerie, edited by Jeff and added to in our b, roll by London.