Podcast: Play in new window | Download
Subscribe: Apple Podcasts | Google Podcasts | Spotify | Android | Stitcher | Blubrry | Email | TuneIn | RSS | More
episode 100 part 4 season 3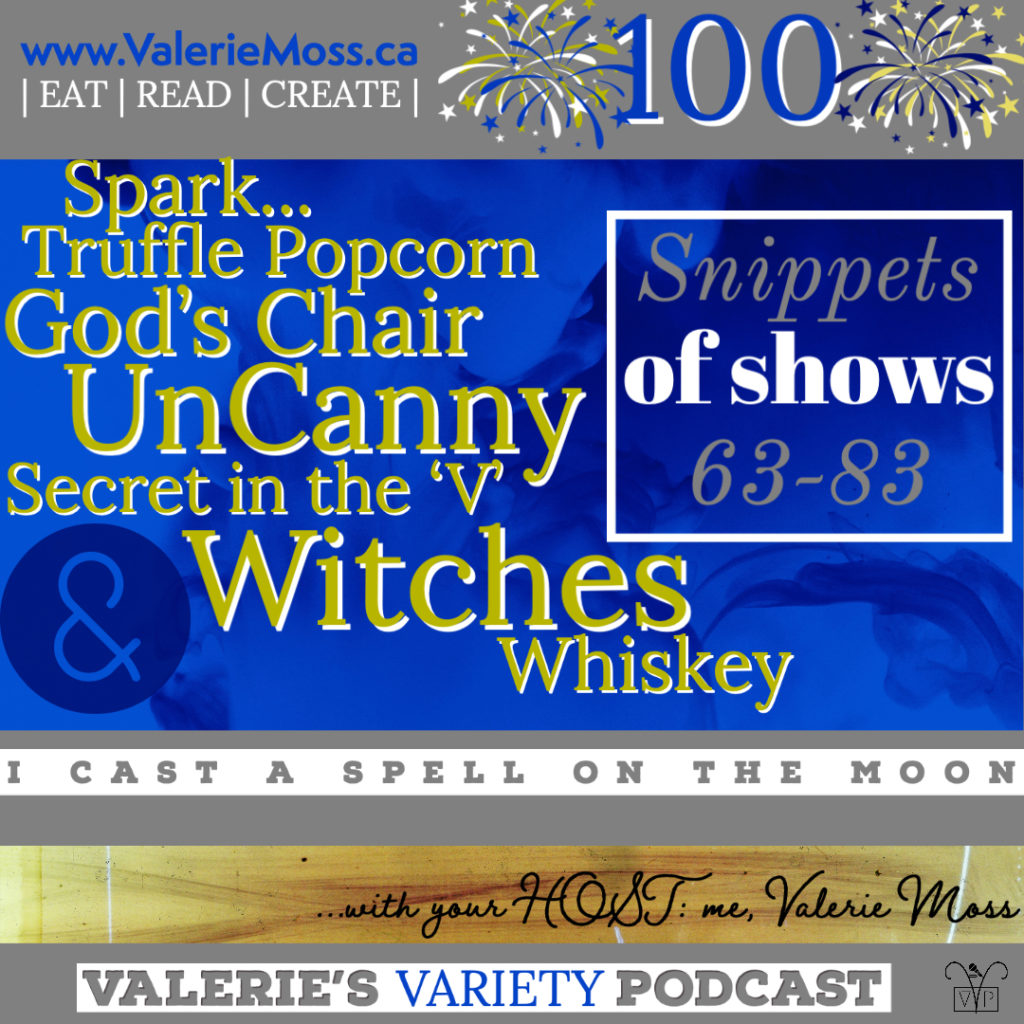 Hey everyone, it's Valerie here in this second to last episode we are diving into authors and great books, more Valerie's and truffle popcorn…my side hustle into Audiobooks, whiskey samplers, and an introduction to my new theme…which is still so fitting EAT READ and CREATE…enjoy this episode
Episode 63&64&65 – Clare C. Marshall wrote Sparkstone Saga A collection of books set in Alberta everyone has special powers and Clare, read for us with her amazing spirit and up beat attitude she was so fun to interview! A 3 part episode.
Episode 66&67& 68 – Valerie Flexual This was a 3 part show, and man did we have fun, she's is such a neat person, with a larger than life persona – her IG has like 20,000 pictures – she bares all, cleans up the earth every. single. day. and is so genuine.
Episode 69 & 70 – Truffle Popcorn, and my choice is better! One day while I was working away…I missed lunch and my friend Jenny brought me a plate of this popcorn…the rest is history. Join my hubby and I on our day date to this place, Sauce!
Episode 71 – You Don't Need to Be Like Them Another interview with an incredible Valerie, she's honest and passionate about helping people – all part of my Valerie Segment. She believes in people helping people.
Episode 72 & 73 &74 – Whiskey Samples & the God's Chair a mountain and a book Interview with Constance Varga and her incredible book, The God's Chair…about a boy who turns 16, & a girl Hanna, set in Transylvania…we read, we sample some old whiskeys and enjoy this mystical story. 3 part episode.
Episode 75 – When the Moon hit's your eye like a BIT pizza pie… a great pizza joint and nice day with my fam jam in Inglewood – worth a stop! Disco ball and black and white movies playing on a projector – lots of stairs to climb and good food.
Episode 76&77 – Valerie Valdivia, Uncanny This Valerie fits into my Valerie Segment perfectly because she's so creative with her drawings, she drew a perfect sewing mouse complete with a thimble top hat…she's worth the listen, 2 part episode.
Episode 78 – Chants – Spells and Witches One of my first audio books, Wicca for Beginners, I loved learning all about the myths, paganism and this nature based religion…like Halloween was originally call Sanheim, great listen.
Episode 79-80-81 – Secret of the 'V' This was a 3 part episode where I sit down with an old client turned friend, Valora Douglas to talk about being Vals' – her fancy girly room, her books and more!
Episode 82 – Ornaments – Recipes – Chain Letter! The close of Christmas for 2019, new traditions like tree ornaments, I wrote a chain letter but didn't get it back…worth- a try, my favourite recipes from The Best of The Best and more cookbook…and a trip!
What did you think of part 4 of this look back isn't it fun to get to know the Valerie's – me dabbling into this audiobook world, interviewing local authors and their stories to tell, I just loved this part…so many good memories sort of like an audio scrapbook…
Next week, for our final part, we are closing in on the final 20 shows of my podcast the newest shows, shows that you likely still remember hearing me tell these stories…my new theme, giveaways, interview with a famous Writter and more…
Follow Me:
Website @ ValerieMoss.ca
Instagram @ValerieJMoss
Facebook @VSMoss
YouTube @ValerieJMoss
Pinterest @VJMoss
The show music is call 'Girl' by Text me Records and Leviathe
The cover art, storytelling and production is by me, Valerie Moss.
Stay Tuned for the next season, season 3 on Valerie's Variety Podcast with your host me, Valerie Moss from Studio 17