Podcast: Play in new window | Download
Subscribe: Apple Podcasts | Google Podcasts | Spotify | Android | Stitcher | Blubrry | Email | TuneIn | RSS | More
episode 51 season 1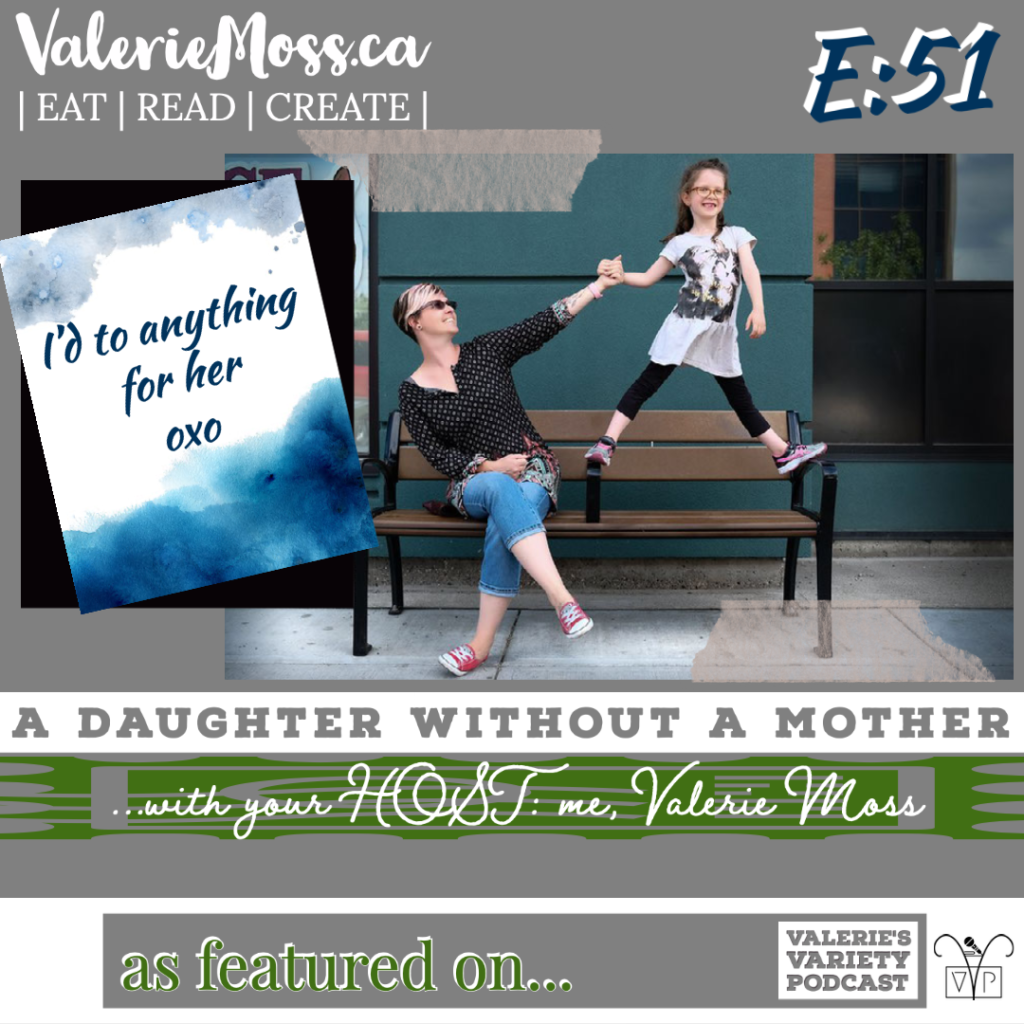 Welcome back to Valerie's Variety Podcast with your host me, Valerie Moss this show is about ReViews, InterViews and my Daily Views. It's a story podcast about my life in Calgary, WhatEVER | WhenEVER. The show drops every Tuesday.
Follow me on Instagram | Pinterest | Facebook
Instagram @ValerieJMoss
Pinterest @VJMoss
Facebook @ValeriesVarietyPod
A personal Journey into Motherhood.
Todays episode is about being a daughter to a Father. When I was 6 months old and my sister was 2.5 years old our parents got a divorce. They were married young and life was a mix mash of selfish teenagerhood-young adult life – neither being sure footed. Embracing the fact that change is inevitable. Resulting in them – my two parents going their separate ways. We, my sister and I lived with my dad – full time.
I saw my mom sometimes growing up but not many times. We didn't see her regularly at Christmas or special occasions. We saw her sometimes at my auntie Kathy's house (her sisters). This was my life, saw her sometimes. When I met my husband about 20 years ago he asked me how many times in my life had I seen my mom…I said maybe a few dozen times – I was 23 years old when he asked me this question. When I would see her mostly it was good. She's connected and engaged. I think I spent only one Christmas with her. Probably the best time(s) I have with her is since I've been an adult. When we are sewing, quilting and retreating together. She loves to come, we stay up all night visiting, sharing the same bed even. I taught her how to quilt, she taught me how to stitch.
The challenging part about this is that you need to reach out to her like over a dozen times to a) actually get a response this can be by call, voice male, text, email etc etc. Finally she'd respond. This went on for about 7 years or so…connecting was awesome being with my mom was awesome – trying to get this to work was always on me. I initiated it all and still do.
Then nothing for the last 2 or 3 years NOTTA
Recently I was caught again. Shame on Me. It has been about 2 years or so since I've spoken to my mom. I've reached out sent videos of my daughter, texts, email, calls. NOTTA. She doesn't respond. For my 40th birthday my hubby invited her to my party, no response, my auntie was coming so she reached out to my mom, no response.I Sung her happy birthday on voice mail, wished her Merry Christmas. All of it and NOTTA. This starts to weigh on a girl, you know? So finally I get frustrated and fed up and sad so I stop reaching out, then I feel guilty and the cycle starts all over again.
How was I caught? I fell for it, I let my emotions get to me, I got…excited because guess what? She texted me back. Yep the first time in years. So, I was excited I sent her a note back immediately thanking her for her response I thought to acknowledge her would be a good step. I had asked if we could meet in Red Deer for lunch – this is approx the same distance driving for both of us. She responded again…here's the text convo. insert text message here:
Aunties are Moms too
I've been surround by Aunties growing up. Especially my moms sister. Her and my dad remained friends after my mom and dad split. Plus they were both from the same small Albertan town so everyone goes home for Christmas. My dad, always wanted us to keep connected to our roots.
This Auntie was my everything growing up, I've told you a bit about her in previous episodes at Christmas she's the one with last minute gifts saved up for when I'd arrive – sew all night then wrap gifts for placing under the tree. She's so funny – like I mean lose your drink in your mouth, spit and choke on your giggles funny. She's full of wit and stories. The other night we talked for 4 hours yep she's that person in my life.
I can talk and tell her about everything. She would be the one who influence my Mothering skills, from watching and changing her kids diapers, feeding them bathing them, being together with Auntie and kids that was me. I loved it. I had younger sisters that I could help cherish and nourish and play with. Auntie K would braid my hair, we'd stay up late playing Tetris and laughing.
So when you think of Mother's Day who comes to mind? If you have an amazing mom, you're one of the lucky ones. Many of us have different people that create this image for us, could be a close friend like my sweet friend Alison who I adore. It could be a girlfriend that you had your babies with, Diane I couldn't have gotten through those early days and months without you.
Growing up with a Dad
For me growing up with a dad, day in and day out. He did everything he could. He went to school and worked when we were young, a lot. This man's life was heavy with decisions, money was tight and our life was full of change. We moved a lot always trying for better. He worked a lot so we were home a lot alone.
My Dad was a chef so growing up with this we had great meals and could cook a mean supper at a young age. He was a fun dad, always taking us to the mall, doing small things to spoil us, bring us to family functions – this was important to him. He's a family guy, he will always be there for you – family and friends.
When I mother to my daughter I do all the things that I wanted done to me. I'm basically giving my child what I feel like I missed out on or didn't get enough of. Things like 'pillow talk' snuggles, whispering secrets, braiding hair (altho my dad could put sponge rollers in my hair so I looked like Shirley Temple – I loved it) makeup, nails, being pretty. I lay with her in the night when she's had a bad dream, stroke her hair when she's had a hard day (my dad would sing Que Ser Rar) let her cry and have a moment. Help her make good choices with food, clothes, hair, hygiene. She needs me like we need a person.
Who is this 'Mother' to You
To you it might be your mother to me it's my friends and my dad and my auntie Kathy. Since I've grown and as I come into my own spirit and my own sure-footedness I feel like I get to choose. I get to choose to be with this person or that person. When I reach out to my mom, am I prepared for the no response back, again? I get to choose to spend time with people who matter to me. Weather it's a friend from work, a long distance call that lasts all night, text message with lasers – these are the people who respond back, who care the you are there. They matter to you and you matter to them.
I Feel
I love my mom, I'm here for her. She's a lost sole. Her mother, Valerie – died when my mom was 16 years old. This changed my mom forever, she's never been the same. Losing her mom at such a tender age, coming into womanhood, being in high school, in the 60's and 70s and then having a baby at 19. To this day, when she talks about her mother she cries with sorrow, it weighs heavily on her, it's fresh. She's engaged and warm-loving. When I have her in this moment I want to savour it and I have good memories with her, lots of laughs and pictures. One day, she'll be back again.
Remember who matters to you…be the person who matters to this person.
Until next Tuesday, happy Mothers Day.
Thank you to London who so naturally can take over the microphone. She was busy working on her chores while I was trying to sneak in this episode. I asked if she wanted to share any comments about mothers day episode and she sure completed this episode perfectly.
See you next Tuesday.